Walkway lights may be something that some of us overlook and may not even notice, however they make a huge difference in many ways…
Imagine a world without walkway lights; it would be a very dangerous place filled with dark paths and people tripping and falling, possibly injuring themselves. Luckily, we live in a world where walkway lights exist, and we even have options to find ones that fit the aesthetic we desire! If you're looking to update your walkways lights, or replace your old ones, you have come to the right place. At Diffuser Specialist we offer a wonderful selection of walkway lights to fit your every need and to keep your visitors safe while using your walkways during nighttime hours.
There are a few different styles of lights you can choose from when you're looking for walkway lights. It's really up to you depending on what sort of style or feel you want your walkway to have that will determine which style you decide to go with. We offer a few different styles of walkway lights, and each style has various options available, too! So, no matter what you need for your walkway lights, we've got it here at Diffuser Specialist!
Luminaries and Lamp Posts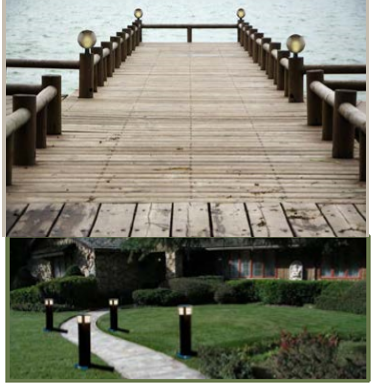 Luminaries and Lamp Posts create more of a classic look to your walkways, while providing high quality light for your visitors. These come with 20-foot power cords for easy placement just about anywhere and are weather resistant for long lasting quality even out in the elements. These lamp posts are available in black or white, with zero globes, single globes, or four globes. You can also choose from single piece or multiple piece posts, depending on the shipping and storage options you have available. The single globe lamp posts have 14" or 12" globes which are available in polycarbonate or acrylic. The four globe lamp posts have 6" globes available in smooth white or ribbed white. These are very simple to install yourself; you just fill the base with sand and place them wherever you'd like!
View our Luminaries and Lamp Posts here
Bollards and Dome Walkway Lights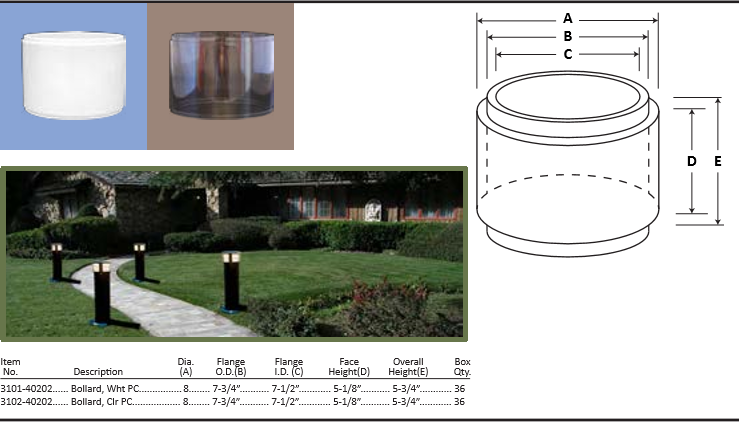 Bollards and Domes are great for commercial or residential walkway lights. They are designed to be on top of post lights that line the side of walkways and add a more modern look. Both options are single piece injection molded and are available in white or clear. They are designed for long lasting quality and are made of UV stabilized polycarbonate which doesn't scratch, fade, or become discolored like other materials. Bollards and domes will look wonderful in just about any situation where high quality lighting is needed.
View Our Bollards and Domes Here
These are just a couple options we have available in our professional lighting made easy selection. Our lighting experts are here to answer any questions you may have about walkway lights or any of our products. From ordering to installation, we are happy to help answer any questions you may have! If you would like any more information on our walkway lights or any other products, don't hesitate to contact us today.