The kitchen is one of the most important spaces in the home. Why? It's where we prepare the meals that are central to our body's nourishment. It's where we cook, clean and spend quality time with family. Why shouldn't it be treated like the other important spaces in the house in terms of interior aesthetic – the living room, dining room and guest bathroom? Finding the right fluorescent light cover for your kitchen can make more of a difference than you may think!
What's Cooking in the Kitchen?
Kitchen lighting has transcended functionality as of late. Homes now have recessed lighting, under-cabinet lighting and track lighting in kitchens as opposed to the standard fluorescent centerpieces. Most commonly positioned over kitchen islands, fluorescents provide an even distribution of light for any cooking workspace. The problem is that fluorescent lighting can produce a lot of glare, if not covered properly. This presents a problem for many people, notably people with the autoimmune disease lupus. Read more about the effects of fluorescent lighting on people with lupus here.  
There are many options when it comes to replacing your fluorescent light covers in your kitchen or office. You can even have a view of the sky or rainforest canopy.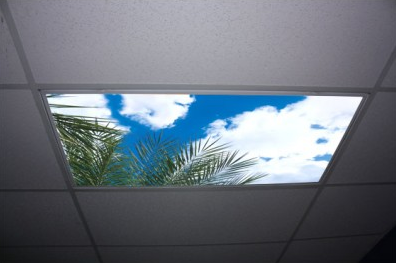 Photo credit: www.usaskypanels.com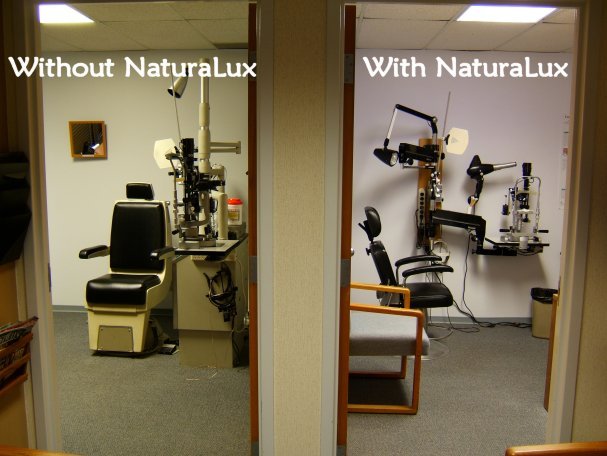 But,  if your looking for a simple replacement to your cracked or yellowing fluorescent light cover that combines function and aesthetic, look no further than Naturalux. Naturalux overlay filters are designed to reduce the glare and UV radiation emitted by fluorescent lighting. These filters are already becoming popular for hospitals and offices, where fluorescent lighting is most common.
If your ready to get rid of the glare in your kitchen and want it done right the first time, check out our Naturalux product page to learn more.
Was this a helpful article? Leave us a comment and let us know if you found what you were looking for. 😉