Fluorescent lights are very popular in commercial and residential spaces because they can illuminate large areas and they are easy to maintain. Fluorescent lighting covers are just as important as the lights themselves because they can dictate the overall quality of light being emitted.
The fluorescent lighting covers you need for your fluorescent lights depends on your environment and area that is being illuminated. At Diffuser Specialist we strive to offer the very best fluorescent lighting covers to fit your needs, and many of our products are proudly manufactured in the USA.
Egg crates and Louvers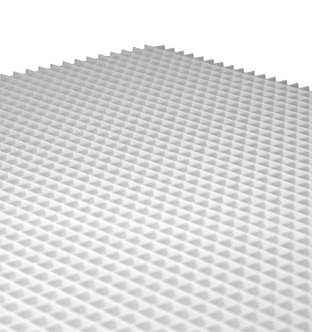 Our Eggcrate and Louver fluorescent lighting covers are designed to increase air flow to decrease operating temperature of fluorescent lights. This helps increase the light's lifespan and overall quality of operation. Whether Egg crates or Louvers are more appropriate for your areas depends on the needed lighting, as well as the intended aesthetic. View our Egg crates and Louvers here.
Flat Sheet Fluorescent Lighting Covers
Flat sheet is the most popular style of fluorescent lighting covers because of its ease to install and the available options it provides. This is mostly used in commercial settings, hospitals, schools, and other places with high demand for fluorescent lighting. There are many different thicknesses, textures, and transparencies to fit your needs. There are also a few fluorescent lighting filters which are available as flat sheet. View our Flat Sheet fluorescent lighting covers here.
Vapor Tights
Vapor Tight covers are designed to be put in place where it is important to have an air tight seal on your lights. Kitchens and other sterile environments generally use vapor tights because they keep dust and other particles from the lights and keep the environment clean. Read more about Vapor Tights here.
Wrap Lenses
Wrap Lenses are designed to cover a fluorescent light all the way around it. Whereas a flat sheet fluorescent light would be rescinded into the ceiling, a wraparound fluorescent light would be on its own ballast and not rescinded into the ceiling. Wrap lenses ensure high quality and even light distribution from your fluorescent lights. Read more about our wrap lenses here.
Tube Guards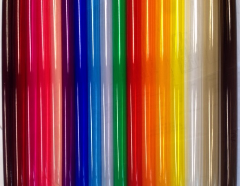 Tube guards are designed to provide extra protection to fluorescent lights to help prevent bulb breakage. They are also available in many decorative colors for different purposes, from light filters to aesthetic. They help minimize bulb replacement and keep fluorescent lights operational for longer times because of the lessened number of damaged bulbs. Read more about our Tube Guards here.
Fluorescent lighting has many advantages, especially when you have the right lighting covers in place for your environment. Sometimes, though, it is difficult to know exactly what sort of fluorescent lighting covers you need for your situation. This is why we have our lighting experts ready to listen to you and help find the right products for you. If you have any questions or comments, or would like help finding the right fluorescent lighting covers for you, contact us today. We are more than happy to help.