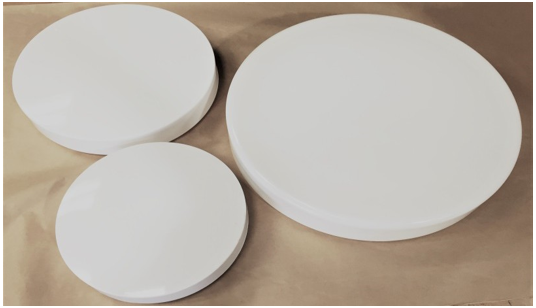 DESCRIPTION
The Circleline lens is a round light cover for commercial and residential ceiling and wall applications. This light will brighten up just about any room with clean and clear luminescence. It is available in white, and made from UV resistant acrylic for long life spans with minimal fading or discoloration. We have the circle line lens round light cover available in a variety of sizes to fit your needs, too! Read below for more information and how to order your circle line lens round light cover today!
MATERIALS
Acrylic – UV resistant, Circleline Acrylic drum lenses are available in white.

CIRCLELINE LENS MAXIMUM TEMPERATURES
No warranty or guarantee is expressed or implied as only the user can determine the suitability of a product for their purpose.
Maximum working temperature is 90˚ C for Acrylic depending on
products chosen.
Ordering Information
For Circleline Lens pricing and delivery please call 1.800.880.5483.
Notice
Diffuser Specialist assumes no responsibility for suitability of luminaires and applications..
Subject to changes without notice.
---
READY-TO-GO
DSC-11DA-WH
11″ DRUM
WHITE
ACRYLIC
6/ctn
Broken carton charges may apply
---
READY-TO-GO
DSC-14DA-WH
Security Drum
Lens WHITE
ACRYLIC
14" DIAMETER
3" HEIGHT
QTY 8
Broken carton charge may apply