Tube Guards
Fluorescent Light Tube Covers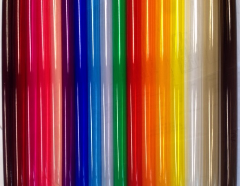 Tube guard Sleeves are Fluorescent Light Tube Covers which guard against the inherent dangers of fluorescent lamp breakage by retaining the shattered glass and phosphors. They are made from polycarbonate Sleeves that also protect against dirt, dust, bugs and flying insects.
To order tube guard fluorescent light tube covers from Diffuser Specialist, simply fill out the order form below. A highly trained member of our team will shortly be in touch to process payment and complete your order.
[symple_column size="one-half" position="first"]
Features and Benefits of using Fluorescent Light Tube Covers and Tube Guards
Fluorescent light tube covers provide Reduced cleaning cycles, and also minimized lamp replacement due to breakage. The Specially Designed, Snug end caps also hold the lamps in place, ensuring the best protection.
U.V. Tube Guards and Fluorescent Light Tube Covers
U.V. filtering fluorescent light tube covers / tube guards are also available. The more sensitive the material is to U.V. the higher Nano rating is needed to protect it. Especially Sensitive things like Art work or sensitive old papers may want photo red, due to its protective ability, etc…
Clear U.V. Filter 390 Nano
Clean room yellow U.V. filters 460 Nano
Amber U.V. filter 540 Nano
Photo Red U.V. filter 600 Nano
Download UV Tube Guard Spec Sheet
[/symple_column]
[symple_column size="one-half" position="last"]
Fluorescent Light Tube Covers / Tube Guards Sizes and Colors
The most common sizes are T12, T8 and T5* in standard 4' and 8' lengths. There are many other colors, sizes and lengths available. Please call for details. Each tube guard includes 2 Black end caps to keep the lamp securely in place.
Download T5 Tube Guard Spec Sheet
Download T8 Tube Guard Spec Sheet
Download T12 Tube Guard Spec Sheet
Standard Colors
The most common standard colors include: Clear, amber, blue, royal blue, red, green, hot pink, purple, smoke, yellow, bug yellow. Other colors and custom colors are also available.
Other Options
Heat Sink Screens – Help keep heat from building up in tubes, which may cause damage.
End Caps – Replace old, broken ,or missing end caps to keep your lamps in place.
Freezer Endcaps – Used in commercial freezer applications to offer special insulation for the lights.
Safety Lock – Locks your lamps in place so they won't fall out from vibration or being hit.
[/symple_column]
[symple_clear_floats]
Specialty Tube Guards / Fluorescent Light Tube Covers
Diffuser Specialists has specialty fluorescent light tube covers which are designed for special purposes. These tube guards also come in all sizes.
Download Specialty Tube Guard Spec Sheet
The Matrix
The Matrix Safety sleeve was created to allow the user to adjust the direction and brightness of his fluorescent lights for maximum eye comfort. In addition to performing all of the protective tasks of a regular safety sleeve, the MATRIX allows you to regulate the light output or reduce lamp glare. By simply rotating the sleeve, you can adjust to your desired comfort level. The clear window of the tube allows the control of the light output, while the matrix patter of the Mylar insert allows control of the light intensity.
NaturaLux™
The Cadillac of tube guards, not created equal to the others. NaturaLux™ blocks U.V. rays, stops glare that cause eye strain and headaches and bring lighting closer to a full spectrum lighting (daylight).
Polaris™
Keeping you safe. See the light in any emergency. Don't just use the generic polycarbonate clear safety sleeves to meet OSHA standards, and make an upgrade with the Polaris' exclusive photo luminescent material featuring advanced, propriety self-luminous pigments. These pigments drastically surpass conventional phosphorescent.
Glows 10-times longer than other pigments
Sustains brightness longer
Vibrant color to give an improved visibility in smoke or poor weather.
Does not contain hazardous or radioactive substances.
*T5 tube guards cannot be used with HO lamps
Check Out Our Ready-To-Go Tube Guards
[symple_button color="blue" url="https://diffuserspecialist.com/wp-content/uploads/2012/12/DS_Tube_Guards_Spec_Sheet-copy.pdf" title="Ready-To-Go Tube Guards" target="blank" border_radius=""]Ready-To-Go Tube Guards[/symple_button]