Exploring Custom Light Covers & Ready-To-Go Tube Guards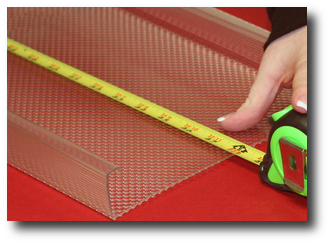 Diffuser Specialist is renowned for being the nationwide master distributor and manufacturer of ceiling light covers, lenses, light diffusers, plastic lighting accessories and even custom light covers.
…Our Ready-To-Go Tube Guards consist of specialty fluorescent light tube covers which are designed for special purposes, and come in all sizes. Fluorescent light tube covers provide reduced cleaning cycles, and also minimized lamp replacement due to breakage. The Specially Designed, Snug end caps also hold the lamps in place, ensuring the best protection. These are very popular among business and home owners around the country. Here are some of the available options that you can choose from:
The Matrix Safety sleeve was created to allow the user to adjust the direction and brightness of his fluorescent lights for maximum eye comfort. In addition to performing all of the protective tasks of a regular safety sleeve, the MATRIX allows you to regulate the light output or reduce lamp glare. By simply rotating the sleeve, you can adjust to your desired comfort level. The clear window of the tube allows the control of the light output, while the matrix patter of the Mylar insert allows control of the light intensity.
The Cadillac of tube guards, not created equal to the others. NaturaLux™ blocks U.V. rays, stops glare that cause eye strain and headaches and bring lighting closer to a full spectrum lighting (daylight).
Keeping you safe. See the light in any emergency. Don't just use the generic polycarbonate clear safety sleeves to meet OSHA standards, and make an upgrade with the Polaris' exclusive photo luminescent material featuring advanced, propriety self-luminous pigments. These pigments drastically surpass conventional phosphorescent.
Glows 10-times longer than other pigments
Sustains brightness longer
Vibrant color to give an improved visibility in smoke or poor weather.
Does not contain hazardous or radioactive substances.Download Specialty Tube Guard Spec Sheet
Don't forget to ask about adding other convenient options including:
Heat Sink Screens – Help keep heat from building up in tubes, which may cause
damage.
End Caps – Replace old, broken ,or missing end caps to keep your lamps in place.
Freezer Endcaps – Used in commercial freezer applications to offer special insulation for the lights.
Safety Lock – Locks your lamps in place so they won't fall out from vibration or being hit.
But, if our extensive selection of Ready-To-Go guards don't suit your needs, then you may need to consider explore ordering custom light covers. Although our warehouse is always fully stocked, if we don't have a cover that you are looking for, we'll custom produce it for you. Simply send us the tube length, colors, etc. and our lighting experts will follow-up with you regarding any additional instructions.