It seems like everyone has some kind of beef with fluorescent lighting right? What's your's? Fluorescents have been known to cause headaches, migraines, skin rashes, drowsiness and other misery's for people around the world. If you don't believe me, try searching "fluorescent lighting" on Twitter.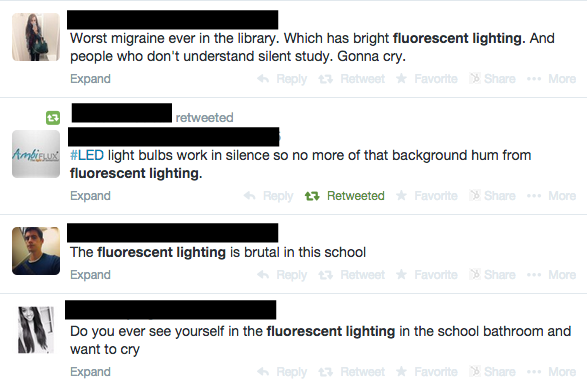 Homes, schools, offices, grocery stores – all have them. Their are three reasons why everywhere you turn today, you see a fluorescent light.
People LOVE that fluorescent bulbs:
1.) Use one-fourth (1/4) the energy of an incandescent bulb
2.) Don't produce the heat that incandescent bulbs do
3.) They last four (4) times longer than incandescent bulbs
Incandescent bulbs are those bulbs that come cheap that you can buy pretty much anywhere. They produce about as much heat as they do light.
There are also three reasons why people HATE fluorescent light:
1.) Glare, with its associated headaches and eyestrain
2.) Poor Color Rendering (color matching ability)
3.) Emission of ultraviolet (UV) radiation
These three reasons are actual problems for people who have to live and work under fluorescent lighting on a daily basis. The longer exposed you are, the more intense the symptoms become.
Studies have also shown that fluorescent lighting can have even more negative effects on people with the autoimmune disease Lupus. People with Lupus are more sensitive to UV radiation, which can cause skin rash "flare ups" after long exposure. Read more..
Studies have also shown that fluorescent lighting produces a small amount of UV radiation when emitting light in a room. This small amount, however, is enough to trigger Lupus flare-ups and drowsiness in some extreme cases. Read more…
If you are a Lupus patient who has ever felt these side effects under fluorescent lighting, consult your doctor.
Here are the options you have for eliminating your headache /eyesore / drowsiness / skin rash problem:
1.) Replace your entire fluorescent light fixture with something (like and incandescent or led fixture). $$$
2.) Spend a whole lot of money on medication and aspirin.
3.) Purchase a plastic light cover designed to improve color rendering and filter out UV radiation.
NaturaLux™ fluorescent like covers are designed to remove all of the things you hate about your fluorescent lighting, while keeping the things you love, like energy and cost efficiency.
NaturaLux™ Filters absorb 100% of the harmful UV rays up to 380nm. That means all UVB and almost all of the UVA is absorbed as well. 81-99% of the UVA found between 380-390nm is absorbed. From 390-400nm, there is an 50-80% UVA absorption rate. This means that your overall exposure to UV from fluorescent lighting is practically non-existent.
NaturaLux™ Filters also help with color rendering which will reduce glare and headaches.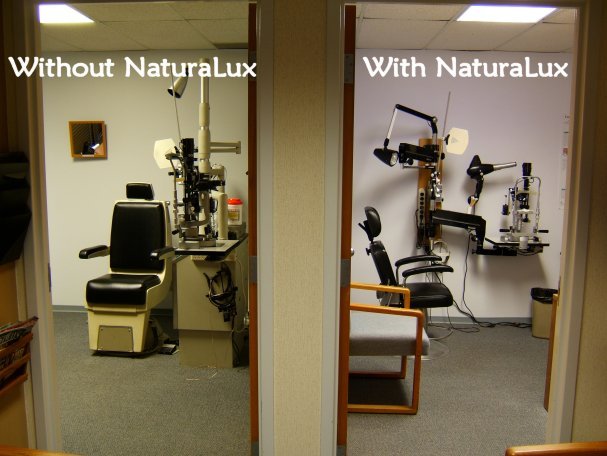 We've put these up in our office and couldn't imagine life without them! Leave a comment or subscribe to our blog for monthly help articles from Diffuser Specialist.