There are many benefits that come with using Outdoor LED Lights…
Lighting in outdoor areas affects more than you may think, and this is why Outdoor LED Lights are standard in most places. Having the right lighting in places such as parking lots, walkways, building entrances, parks, and other outdoor areas can create a safe environment with a pleasing aesthetic. LED lights provide the quality of lighting that you need in your outdoor areas for great results and are energy efficient enough to help keep utility costs low. When it's time to update the lighting in your outdoor areas, LED lights are the right choice. At Diffuser Specialist we have an entire collection of ALEO LED lighting that has exactly what you need to keep your outdoor areas safe and comfortable.
Outdoor LED Lights at Diffuser Specialist
LED Parking Garage Canopy Luminaire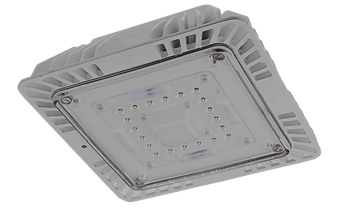 This luminaire combines all the best aspects of LED lighting in one fantastic light to illuminate your parking garages, driveways, or other parking structures. It is designed with a die cast housing that has a thermal management system and is weather resistant for long lasting, energy efficient lighting. This light provides amazing lighting with incredible distribution for an overall aesthetic that improves safety where it counts. It is designed specifically to withstand challenging conditions without sacrificing quality. Because it is LED, this luminaire doesn't take up much space and blends in very well, while using minimal amounts of electricity. Read more about this product here.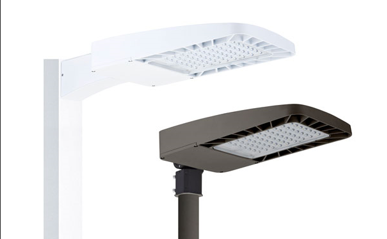 This luminaire is designed to illuminate walkways, recreational spaces, retail shopping centers, and more. The slim profile and superior light quality makes it a great choice amongst outdoor led lights. The optical lens is designed to create minimal glare while lighting the outdoor areas we all love to enjoy. These lights create a soft luminescence that is evenly distributed for maximum coverage with the energy efficiency LED lights are known to provide. Like all our lights in the ALEO LED lighting collection, this has a 5-year limited warranty and is built to last. Read more about this Luminaire here.
These are just a couple examples of the amazing outdoor LED lights we have at Diffuser Specialist…
They are a wonderful choice when you are designing the lighting in any outdoor areas at your car dealership, school campus, or parking complex because of the quality lighting and efficiency they offer. Led lights also demand minimal maintenance and are known to last for long periods of time, even in demanding environments. If you have any questions about any of our products or outdoor LED lights, please contact our lighting experts today! We are happy to help, and have the expertise needed to point you in the right direction or answer any questions you may have. Follow the link below to view all of our outdoor LED lights, or fill out the form to the right to contact us today!
View All Outdoor LED Lights Here