WPL2™G2 SERIES
LED WALL PACKS LUMINAIRE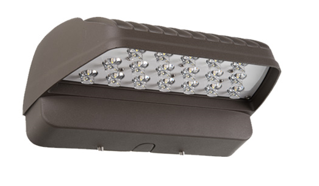 The Aleo WPL™ G2 Series LED Wall Packs combines energy-efficiency, advanced optical control, and modern slim profile aesthetics to deliver enhanced performance to outdoor wall mount lighting applications. Rugged die-cast housing provides advanced thermal management for long life and weather-proof compartment to withstand challenging, outdoor environments.
APPLICATIONS
Outdoor wall-mount applications. Building facade. Retail, commercial, industrial exteriors.
Construction
Rugged, die-cast housing with advanced thermal management system ensures reliability and durability. Weather-proof, gasketed driver compartment protects electronics against environmental elements.
Optical System
Our LED Wall Packs include Precision-formed optical lens system that improves safety and security by delivering high-efficiency illumination with precise optical distribution. Type III Med. distribution comes standard.
Certification
UL Listed. All components have UL certification. DLC QPL.Warranty
5-year Limited Warranty.
See warranty documentation for more information.
Electrical
Luminaire utilizes high-efficacy LED packages maintained at cool temperatures for long life, high efficacy. Reliable driver features universal voltage (120-277V) for convenient installation.
Installation / Mounting
Luminaire comes standard mounting plate for quick and easy installation.
Controls
Suitable for use with sensors and daylight harvesting to achieve deeper energy-savings and code compliance. Sensor accessory available: occupancy sensing with daylight cut-off and photocell (must order with wall pack extension accessory).
Notice
Diffuser Specialist assumes no responsibility for suitability of luminaires and applications
Subject to changes without notice
WPL G2
Nominal Wattage
Color Temp
Input Voltage
Controls
Emergency Backup
Color
LED WallPacks Luminaire
15W20W

24W

30W

42W

5000K
120V-277V
OSDL2Occ. Sensor w/ Daylight

OSDL/IR Multi-Level Occ. Sensor

w/ wireless config.

PC-UNV Photocell (120V/277V)

1 See page 4 for factory pre-commissioned

sensor options 2 OSDL is only available for 30W and 42W

EM700 700lmEM1400 1400lm
Dark BronzeOther colors available
Part#
RATED WATTAGE
DELIVERED LUMENS
HEIGHT
WIDTH
DEPTH
WPL-15/50K G2WPL-20/50K G2

WPL-24/50K G2

WPL-30/50K G2

WPL-42/50K G2

15W20W

24W

30W

42W

1,4421,884

2,359

3,041

4,058

5.3"5.3"

5.3"

5.3"

5.3"

8.2"8.2"

8.2"

10.1"

10.1"

4.8"4.8"

4.8"

6.3"

6.3"