LLS SERIES
LED LINEAR STRIP LUMINAIRE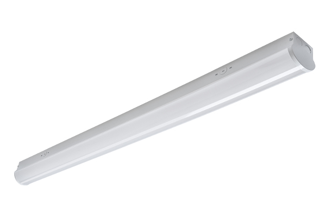 The Aleo LLS Series LED Linear Strip Luminaire delivers industry-leading performance with deep energy savings and continuous dimming. Low profile design offers easy handling and storage. This versatile luminaire produces energy-efficient, comfortable illumination for a myriad of applications.
Applications
Excellent for general utilty applications: Parking garage, warehouse, offices, restrooms, storage units, stairwell.
Construction
Integral LED gear tray and reflector with driver on board allows for easy installation and handling. Luminaire features matte white durable finish. Diffuser requires no additional frame or fastener for easy installation.
Optical System
Reflector systems features highly reflective coating and delivers balanced, comfortable illuminance for productive spaces. Diffuser lens reduces glare and improves occupant comfort while maintaining high efficiency emission.
Certification
UL Listed. All components have UL certification. UL Class 2.Driver: SCP, OTP, OVP protection, FCC Part 15 Class B, UL8750 Class 2. DLC Premium
 Warranty
7-year Limited Warranty. See warranty documentation for more information.
Electrical
Luminaire utilizes high-efficacy LED packages maintained at cool temperatures for long life, high efficacy. Reliable driver features continuous dimming. Universal voltage (120-277V) for convenient installation. Comes equipped with luminaire quick-disconnect.
Installation / Mounting        
Luminaire back housing includes holes and slots for various mounting methods.
Controls        
Continuous dimming (0-10V) comes standard. Suitable for use with dimmers, sensors, daylight harvesting  and other control strategies to achieve deeper energysavings and code compliance. Sensor accessory available: occupancy sensing with daylight cut-off.
LLS
FORM
LUMEN
PACKAGE
NOMINAL
WATTAGE
CRI
COLOR
TEMP
OPTIONS
LED LINEAR STRIP
2'

4'

8'

HIGH LUMEN

VERY HIGH LUMEN

2' = 20W

4' = 25W

4' = 40W

8' = 68W

8' = 78W

83+
4000K

5000K

EMERGENCY BACKUP

CONTROLS
PART#
FORM
WATTAGED
4000K LUMENS
5000K LUMENS
LLS-2HE-20 XE G3

LLS-4VHE-41 XE G3

LLS-4HE-25 XE G3

LLS-8HE-52 XE G3

LLS-8H-68 XE G3

LLS-8VHE-78 XE G3

2'

4'

4'

8'

8'

8'

20W

41W

25W

52W

65W

75W

2,600

5,200

3,325

6,916

8,580

9,750

2,620

5,240

3,350

6,968

8,645

9,825
Notice
Diffuser Specialist assumes no responsibility for suitability of luminaires and applications
Subject to changes without notice