Covers for fluorescent lights make more of a difference than you'd think…
They control the amount of light, and the quality of light, in any area being illuminated. Choosing the right fluorescent lighting cover for your area depends on a few factors, including the usage of the area, the size of the area, and the intended amount of light. Diffuser Specialist is the place to get the covers for fluorescent lights that are the highest quality for long lasting service. We have a large selection and variety of fluorescent light covers for just about any environment or use, and if we don't have what you need we will create custom orders.

Eggcrate louvers are one of the most popular designs for covers for fluorescent lights. They are designed to have an increased amount of air flow around the lights so that the lifespan is increased, and maintenance is low. Eggcrates work well in large areas that you'd like to be well lit. They don't provide much light control, but they are low maintenance and provide quality lighting. There are many different styles of eggcrate louvers to fit your needs and budget. View our selection of eggcrates here.

Louvers are designed to reduce the glare sometimes associated with fluorescent lighting and are available in varying styles, materials, and sizes. Louvers distribute light more evenly than other covers for fluorescent lights and can improve the brightness of colors, which makes them wonderful for retail settings. They also work well in offices or other areas where people spend extended amounts of time. Louvers create a mild aesthetic that is comfortable for high concentrations of people. View our louvers here.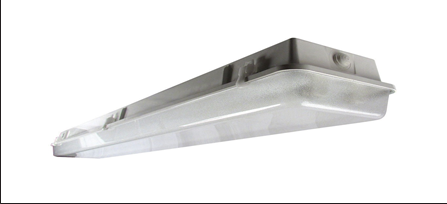 Vapor tights create a sealed enclosure for fluorescent lights, and are designed to be used in areas where there may be large amounts of moisture or dust which may affect fluorescent lights if they aren't sealed. These include commercial kitchens, sports arenas, car washes, parking garages, livestock areas, and more. Our vapor tights are sealed and gasketed to ensure that no moisture or dust can get inside the enclosure so that your lights can last a long time, even while being exposed to the elements. View our vapor tights here.
At Diffuser Specialist we strive to provide the best quality covers for fluorescent lights available. If you have any questions about our ordering process or any of our products, please contact us today. Our lighting experts are here to answer any questions you may have and can even help you find the lighting products that are right for your project. While we offer a wide selection of covers for fluorescent lights, we also carry many other lighting products to fit your needs. View more of our products here.