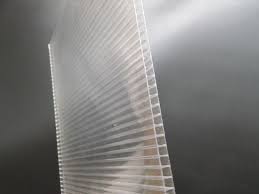 Fluted polypropylene is economical, durable and printable. Corrugated polypropylene sheets are durable for use both inside and outside, and corrugated polypropylene sheet is low in cost, easy to fabricate, and provides good impact resistance.
At Diffuser Specialist, our Flat sheet light diffusers include many styles of Corrugated Polypropylene that are manufactured in the U.S.A., and we also can create custom orders to fit your needs. You can find all of our Corrugated Polypropylene sheets and flat sheet diffusers here. 
You can also view a Fluted, Corrugated Polypropylene Spec Sheet, Here.
Here are some examples of how people and businesses are using it: Menu Boards, Indoor Signs, Temporary Signage, Yard Signs, Trade Shows, Special Events and Directional Signs. Given its lightweight quality, corrugated plastic  also offers very convenient mounting options. For instance, you can display a corrugated polypropylene sign via velcro, double-sided tape, suction cups, sign stands or even easels.
Roof Construction
Did you know that corrugated polypropylene and other related materials are quickly becoming some of the most prevalent materials used in the construction of roofs? Indeed, in addition to providing superior thermal and sound insulation, they also offer high impact resistance and the ability to withstand fluctuating environmental temperature among other benefits. Thus, a growing number of home and business owners are opting for these Fluted Polypropylene Sheets over traditional roofing materials like shingles, metal or tile. According to Do It Yourself, there are a variety of legitimate reasons to consider corrugated roofing including:
Installation – "Most roofing jobs usually involve a series of back-breaking steps that help make your roof watertight. Installing corrugated metal roofing is easier and faster than roofing with asphalt shingles. Depending on the style of corrugated roofing you choose, sheets of roofing material will cover a larger area to get the job done in less time. Since corrugated roofing works in a similar way to siding, each installed piece will help guide the next sheet into place to reduce the time you would normally take to make sure each individual shingle is properly lined up. By using pre-drilled holes, you can quickly attach a sheet of corrugated roofing into place and move on to the next piece." (http://www.doityourself.com/stry/pros-and-cons-of-corrugated-roofing)
Durability – "While most asphalt shingles will need to be replaced every 20 to 25 years, corrugated roofing can be a lifetime investment. As well as being better suited to deal with any climate, corrugated roofing doesn't deteriorate as quickly and can maintain its appearance for many years. With the pressure on to make as many homes as environmentally friendly as possible, the permanent nature of corrugated roofing provides an excellent option over alternatives that will eventually find their way into landfill sites."
Style – "Many homeowner disregard corrugated roofing because of the lack of choice in style. However, the days when corrugated roofing was strictly reserved gardens shed are some way behind us and corrugated roofing no longer comes in standard wavy sheet metal or translucent plastic form. By using new technologies, corrugated roofing is produced in a wide range of colors and styles. Depending on the overall look you want for your home, your roof can house the red terracotta tiles of the Mediterranean or the beautiful copper patina of the Paris skyline. You can also find corrugated roofing that looks similar to traditional shingles in sleek black or a muted brown." (http://www.doityourself.com/stry/pros-and-cons-of-corrugated-roofing)