Diffuser Specialist is the commercial lighting supply you have been looking for, with the highest quality lighting products…
Lighting is one of the most important aspects of commercial settings. It affects the mood and comfort level of everyone there and plays a large part in utility expenses. No matter what business you are in, having the appropriate lighting can bring about many improvements. At Diffuser Specialist, we have worked for over twenty years to become the commercial lighting supply you can count on to provide the highest quality lighting products. We have a large selection of products that can fit just about any commercial setting, and our lighting experts are here to help make sure you find exactly what you need. From fluorescent to LED, Diffuser Specialist has the lighting for you.
One major aspect of commercial lighting is the need for replacement parts, and we've got you covered in that department.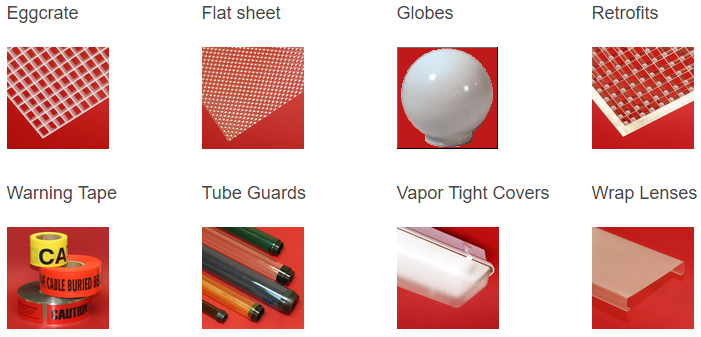 Our selection of replacement lenses for fluorescent lights is sure to fit your needs and will keep your lights looking great and operating efficiently. Our ordering process is simple, and we are happy to help you find the products you need for your project. If we don't have what you're looking for, we will custom make certain orders. Keeping your fluorescent lighting covers up to date and regularly replacing them is key to maintaining high efficiency and quality in any commercial setting.  You can view our replacement fluorescent lighting diffusers here.
Have you considered making the transition to LED lighting in your Hotel, Office Building, Hospital, School, or Restaurant?
Diffuser Specialist is the commercial lighting supply for you! We now have an entire selection of ALEO LED lights that are designed specifically for indoor/outdoor use in commercial settings. You can find LED lights for your parking garage or parking lot, walkways, stairways, and more. You can also find retrofit LED lighting that is simple and easy to convert from fluorescent lighting to LED. LED lighting provides high quality illumination that is also extremely cost effective, and we are here to help you make the switch. View our LED Lighting products here.
Whether it is time for new construction or regular maintenance, Diffuser Specialist is the commercial lighting supply company that can provide all the lighting products you'll need. Our hassle-free ordering process will allow you to spend your time and energy doing other important things- we'll take care of your lighting needs. Contact us today and our lighting experts will gladly help you find the appropriate products for your lighting project and will answer any questions you may have. Don't underestimate the importance of commercial lighting- it affects more than you may think. Visit our homepage for more of our products, here.